When outfitting a new nursery (see baby announcement), you need to get the basics: a crib, a changing table and lots of storage. Stores like Babies "R" Us, Buy Buy Baby, Target and IKEA are all good places to locate these items. Craigslist and thrift shops can also help for the less important pieces. Did you know that cribs (and car seats) have expiration dates?
You also need to figure out the colors, the theme and other design aesthetics that will help to transform the area from a plain and boring guest room into the perfect oasis for a new human to begin their life.
One good place to find inspiration is Etsy. We found some cool prints that were almost perfect but not quite what we wanted: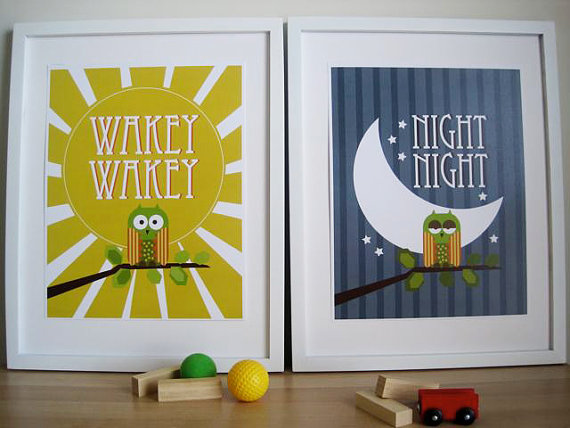 Since we live in Austin, I wanted to add a little local flair so I decided to use a bat instead of an owl. For the uninitiated, Austin is home to the world's largest urban bat colony. Yes, I know that bats are nocturnal but that can be explained to the kid sometime in the future. To be fair, most owls are nocturnal as well.
I also didn't like the flow of "wakey wakey" and "night night" so I opted for "wakey wakey" and "sleepy sleepy."
The Etsy-inspired prints: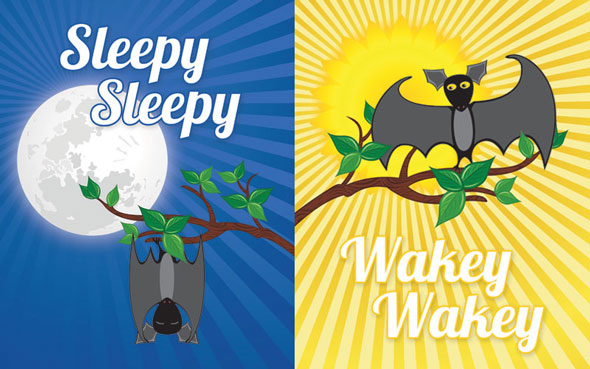 I found some modern, simple white frames at Michaels and ordered poster-sized prints online. After some X-Acto'ing to cut the posters to fit the frames, along with some strenuous basic math and ruler work, I was able to mount the (mostly level) finished product in the nursery.
Behold, the Sleepy Sleepy and Wakey Wakey Etsy-inspired prints: